VASA 2023 Practicum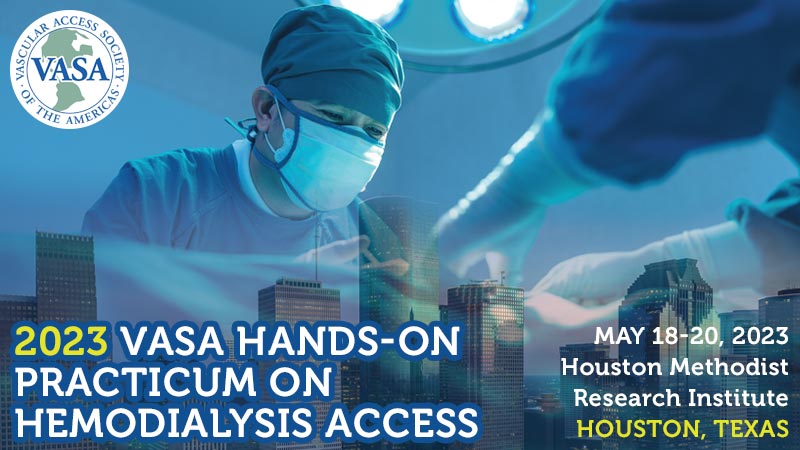 May 18-20, 2023
Houston Methodist Research Institute
Houston, Texas
The Vascular Access Society of the Americas (VASA) invites you to participate at the 2023 VASA Hands-On Practicum on Hemodialysis Access on May 18-20, 2023.
This 1 ½ day practicum on hemodialysis access is a rare opportunity for health care professionals to have hands-on experience with surgical and interventional procedures for creating and maintaining hemodialysis vascular access. Led by nationally recognized faculty, attendees will participate in workshops, live patient evaluations, interactive case discussions and didactic presentations. Attendees will spend a full day in a selection of hands-on workshops with expert-guided rotations including:
Percutaneous arteriovenous fistulas creation
Laparoscopic and percutaneous peritoneal dialysis catheter placement
HeRO graft implantation
Percutaneous procedures for arteriovenous grafts in an animal model
Cadaveric exposures with demonstration of leg fistulas and clavicle & rib resections
Experience with inside-out device for recanalization of occluded central veins
Live access cases
Experience with new products under development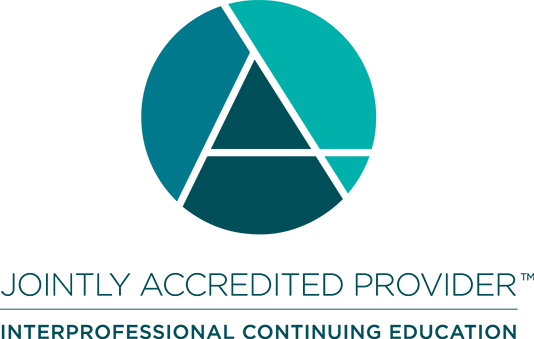 This activity has been planned and implemented in accordance with the accreditation requirements and policies of the Accreditation Council for Continuing Medical Education (ACCME) through the joint providership of Antidote Education Company and Vascular Access Society of the Americas. Antidote is accredited by the ACCME to provide continuing medical education for physicians.
Antidote designates this live activity for a maximum of 12.5 AMA PRA Category 1 Credits™. Physicians should only claim credit commensurate with the extent of their participation in the activity.
An application for nursing CE credit will be filed.
An application for dialysis technician contact hours/CEU credit will be filed.
THURSDAY, MAY 18, 2023

05:30 PM - 07:00 PM

Registration and Reception
FRIDAY, MAY 19, 2023

06:30 AM - 07:00 AM

Registration and Breakfast

07:00 AM - 07:30 AM

General Session

08:00 AM - 10:00 AM

Session 1
Physicians will be divided into groups and can select 2 hrs worth of the following sessions.

Perc PD


Speakers: Raj Narayan, MD and Satyaki Banerjee, MD

Pig AVG


Speakers: Monnie Wasse, MD, MPH and John Ross, MD

HeRO


Speaker: Karl Illig, MD

Lap PD


Speaker: Jason Wagner, MD

Surfacer


Speaker: Dirk Hentschel, MD

Perc AVF - Avenu/Wavelinq


Speaker: Dr. Sharaf and Dr. Rekpo

Anatomy


Speaker: Charles Keith Ozaki, MD

Live Cases/Q&A


Speakers: Bart Dolmatch, MD; Stephen Hohman, MD; Theodore Yuo, MD, MSc; George Nassar, MD

Patient Exam/US


Speakers: Suren Shenoy, MD, PhD; William Jennings, MD; Jason Burgess, MD; Jaime H. Velez, MD




AHP will be divided into groups and will be completing live cases, Q&A and patient exams.

 Allied Health Professionals Group A

Live Cases/Q&A


Speakers: Bart Dolmatch, MD; Stephen Hohman, MD; Theodore Yuo, MD, MSc; George Nassar, MD




 Allied Health Professionals Group B

Live Cases/Q&A


Speakers: Bart Dolmatch, MD; Stephen Hohman, MD; Theodore Yuo, MD, MSc; George Nassar, MD




 Allied Health Professionals Group C

Patient Exam/US
Speakers: Suren Shenoy, MD, PhD; William Jennings, MD; John Ross, MD; Jaime H. Velez, MD
AHP: Forest Rawls CCHT-A CHT, FNKF; Crystal T. Fahner, CCHT; Amber Parker, CHT and Jacquelyn N. Hall, CCHT




 Allied Health Professionals Group D

Patient Exam/US
Speakers: Suren Shenoy, MD, PhD; William Jennings, MD; John Ross, MD; Jaime H. Velez, MD
AHP: Forest Rawls CCHT-A CHT, FNKF; Crystal T. Fahner, CCHT; Amber Parker, CHT and Jacquelyn N. Hall, CCHT

10:00 AM - 10:30 AM

Break

10:30 AM - 12:30 PM

Session 2
Physicians will be divided into groups and can select 2 hrs worth of the following sessions.

Perc PD


Speakers: Raj Narayan, MD and Satyaki Banerjee, MD

Pig AVG


Speakers: Bart Dolmatch, MD and John Aruny, MD

HeRO


Speaker: Jason Burgess, MD

Lap PD


Speaker: Jason Wagner, MD

Surfacer


Speaker: Karl Illig, MD

Perc AVF - Avenu/Wavelinq


Speaker: Dr. Sharaf and Dr. Rekpo

Anatomy


Speaker: Theodore Yuo, MD, MSc

Live Cases/Q&A


Speakers: Dr. Alvarez; Dirk Hentschel, MD; William Jennings, MD; John Ross, MD; Jaime H. Velez, MD

Patient Exam/US


Speakers: Monnie Wasse, MD, MPH; John Lucas III, MD, FACS; Stephen Hohman, MD; Charles Keith Ozaki, MD; George Nassar, MD




AHP will be divided into groups and will be completing live cases, Q&A and patient exams.

 Allied Health Professionals Group A

Patient Exam/US
Speakers: Monnie Wasse, MD, MPH; John Lucas III, MD, FACS; Stephen Hohman, MD; Charles Keith Ozaki, MD; George Nassar, MD
AHP: Forest Rawls CCHT-A CHT, FNKF; Crystal T. Fahner, CCHT; Amber Parker, CHT and Jacquelyn N. Hall, CCHT




 Allied Health Professionals Group B

Patient Exam/US
Speakers: Monnie Wasse, MD, MPH; John Lucas III, MD, FACS; Stephen Hohman, MD; Charles Keith Ozaki, MD; George Nassar, MD
AHP: Forest Rawls CCHT-A CHT, FNKF; Crystal T. Fahner, CCHT; Amber Parker, CHT and Jacquelyn N. Hall, CCHT




 Allied Health Professionals Group C

Live Cases/Q&A


Speakers: Dr. Alvarez; Dirk Hentschel, MD; William Jennings, MD; John Ross, MD; Jaime H. Velez, MD




 Allied Health Professionals Group D

Live Cases/Q&A


Speakers: Dr. Alvarez; Dirk Hentschel, MD; William Jennings, MD; John Ross, MD; Jaime H. Velez, MD

12:30 PM - 01:30 PM

Lunch: Patient Experience

Moderators: Dirk Hentschel, MD; Forest Rawls, Jr., CCHT-A, FNKF; John Lucas III, MD, FACS

01:30 PM - 03:30 PM

Session 3
Physicians will be divided into groups and can select 2 hrs worth of the following sessions.

Perc PD


Speakers: Raj Narayan, MD and Satyaki Banerjee, MD

Pig AVG


Speakers: Dirk Hentschel, MD and George Nassar, MD

HeRO


Speaker: Stephen Hohman, MD

Lap PD


Speaker: Jason Wagner, MD

Surfacer


Speaker: John Ross, MD

Perc AVF - Avenu/Wavelinq


Speaker: Dr. Sharaf and Dr. Rekpo

Anatomy


Speaker: Suren Shenoy, MD, PhD

Live Cases/Q&A


Speakers: Monnie Wasse, MD, MPH; Suren Shenoy, MD, PhD; John Lucas III, MD, FACS; Charles Keith Ozaki, MD; John Aruny, MD

Patient Exam/US


Speakers: Bart Dolmatch, MD; Karl Illig, MD; Dr. Alvarez; Theodore Yuo, MD, MSc




AHP will be divided into groups and will be completing live cases, Q&A and patient exams.

 Allied Health Professionals Group A

1:30-2:00 Anatomy


Speaker: Suren Shenoy, MD, PhD; Jacquelyn N. Hall, CCHT

2:00-2:30 VASA Toolkit


Speaker: William Jennings, MD; Jaime H. Velez, MD; Judy A Geissler, DNP, APNP, FNP-BC

2:30-3:00 EndoAVF


Speaker: Forest Rawls CCHT-A CHT,FNKF and Amber Parker CHT

3:00-3:30 Self Cannulation


Speaker: Crystal T Fahner CCHT




 Allied Health Professionals Group B

1:30-2:00 VASA Toolkit


Speaker: William Jennings, MD; Jaime H. Velez, MD; Judy A Geissler, DNP, APNP, FNP-BC

2:00-2:30 EndoAVF


Speaker: Forest Rawls CCHT-A CHT,FNKF and Amber Parker CHT

2:30-3:00 Self Cannulation


Speaker: Crystal T Fahner CCHT

3:00-3:30 Anatomy


Speaker: Suren Shenoy, MD, PhD; Jacquelyn N. Hall, CCHT




 Allied Health Professionals Group C

1:30-2:00 EndoAVF


Speaker: Forest Rawls CCHT-A CHT,FNKF and Amber Parker CHT

2:00-2:30 Self Cannulation


Speaker: Crystal T Fahner CCHT

2:30-3:00 Anatomy


Speaker: Suren Shenoy, MD, PhD; Jacquelyn N. Hall, CCHT

3:00-3:30 VASA Toolkit


Speaker: William Jennings, MD; Jaime H. Velez, MD; Judy A Geissler, DNP, APNP, FNP-BC




 Allied Health Professionals Group D

1:30-2:00 Self Cannulation


Speaker: Crystal T Fahner CCHT

2:00-2:30 Anatomy


Speaker: Suren Shenoy, MD, PhD; Jacquelyn N. Hall, CCHT

2:30-3:00 VASA Toolkit


Speaker: William Jennings, MD; Jaime H. Velez, MD; Judy A Geissler, DNP, APNP, FNP-BC

3:00-3:30 EndoAVF


Speaker: Forest Rawls CCHT-A CHT,FNKF and Amber Parker CHT

03:30 PM - 04:00 PM

Break/Exhibits

04:00 PM - 05:00 PM

Vascular Access Clinic

Moderator: Monnie Wasse, MD, MPH; Judy Geissler, DNP, APNP, FNP-BC; William Jennings, MD

07:00 PM - 09:00 PM

Practicum Dinner

Marriott Medical Center Hotel — Salons A-E, 3rd Floor
SATURDAY, MAY 20, 2023

07:00 AM - 07:55 AM

Breakfast Session

07:55 AM - 08:00 AM

Welcome and Introduction

Speaker: Eric Peden, MD

SESSION 1: JOINT SESSION

08:00 AM - 08:20 AM

FDA, Protecting the Public with Product Recall

Speakers: Robert Lee, MD and Dirk Hentschel, MD

08:20 AM - 08:35 AM

Optimizing RCF Outcomes

Speaker: Charles Keith Ozaki, MD

08:35 AM - 08:45 AM

Forearm Transpositions

Speaker: Charlie Cheng, MD

08:45 AM - 09:00 AM

Endovascular Maturation Procedures

Speaker: George Nassar, MD

09:00 AM - 09:15 AM

Patient Selection for EndoAVF

Speaker: Theodore Yuo, MD, MSc

09:15 AM - 09:30 AM

Maturation of EndoAVF

Speaker: Monnie Wasse, MD, MPH

09:30 AM - 10:00 AM

Questions and Cases

Speaker: Eric Peden, MD

10:00 AM - 10:30 AM

Break and Exhibits

SESSION 2: JOINT SESSION

10:30 AM - 10:40 AM

Aneurysms, Which to Repair and How?

Speaker: John Lucas III, MD, FACS

10:40 AM - 10:55 AM

Superficialization

Speaker: William Jennings, MD

10:55 AM - 11:10 AM

Surgical Treatment of Outflow Problems, Antecubital Fossa, Basilic Swing Point, Cephalic Arch

Speaker: Suren Shenoy, MD, PhD

11:10 AM - 11:25 AM

POBA vs. Drug Eluding Technology vs. Bare Stents vs. Stent Grafts - How to Choose

Speaker: Bart Dolmatch, MD

11:25 AM - 11:35 AM

PAI

Speaker: Carlos Hinojosa, MD

11:35 AM - 11:45 AM

Flow Reduction

Speaker: Stephen Hohman, MD

11:45 AM - 12:00 PM

Managing PD Problems

Speaker: Jason Wagner, MD

12:00 PM - 12:10 PM

New Devices in AV Access

Speaker: John Ross, MD

12:10 PM - 12:30 PM

Questions/Cases/Closing Remarks

Speaker: Eric Peden, MD